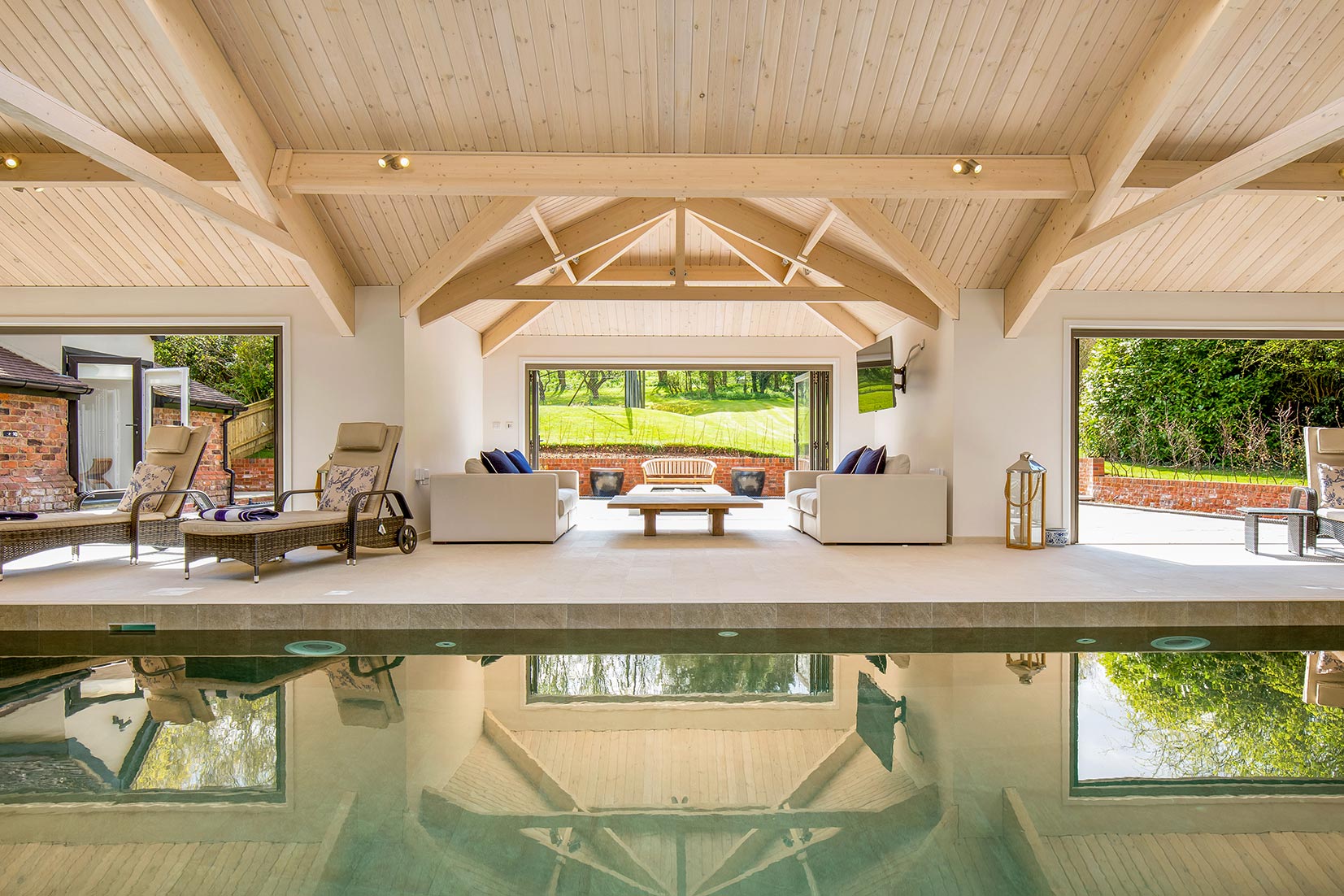 Step 2: Design
At Origin, we work closely with you to create a swimming pool design to suit your home, lifestyle and budget. We offer a holistic approach to each project to ensure that every individual element works seamlessly together. Every pool project is unique and requires expert input from multiple professionals. We believe that a successful project requires all of the specialist areas to be integrated into a consolidated design from the start. The process of designing and building a pool house is quite unlike any other building project as an Indoor swimming pool consists of three major areas that require specialist design; the pool chamber, the building envelope and the management of the environment (heating, dehumidification and ventilation).
Our specialist design briefs encompass:
Structural engineering – Arguably the most important part of the designing process, making sure that the pool and pool house of your dreams will be a stable and secure building. It's a technical process that will ultimately ensure your pool house will bring you many years of service.
Specialist heating, ventilation and dehumidification design – A lesser known but nonetheless vital part of any pool house is the proper treatment of the warm, moist air the pool will generate. Without this your pool house will have no control over the internal environment and the building fabric and ultimately, your enjoyment of the pool itself will suffer.
Pool chamber and equipment – The actual swimming pool itself, deciding which proportion of pool will work best for the space that you have. The size and volume of the pool will influence the type of pump, filter and pool circulation design.
Building fabric detailing and technical drawings – Internal and external materials will affect the construction detailing and sequencing of building operations, all of which require reflecting within the Building Regulation drawing process to enable the design to be constructed successfully.
Green energy considerations – Taking the time to consider more environmentally friendly options for your pool can actually save you money in the long run. Most elements you need to run your pool will also have an eco friendly version, whether that be air source heat pumps, insulating pool covers or water saving filtration devices. See our 'Join the mainstream and go green' blog for more information and inspiration.
Lighting – This plays an important part in creating the atmosphere you pictured in your pool house. As our clients visualise using their pool for a variety of different reasons, we have a wide variety of lighting styles that we can suggest, whether you're looking to make your pool house a centre of wellness and relaxation or a family friendly, fun place to be.
Interior design – Bringing your ideas and visualisations to life, making your pool really your own. We have over 35 years' industry experience and have successfully completed thousands of pools and pool houses to a wide range of specifications so you can be secure in the knowledge that we will help you design the pool of your dreams.
Attention to detail is crucial when designing a beautiful and successful pool and pool house. At Origin, we have the experience, knowledge and delivery expertise to bring your vision to life and we manage the entire process from initial planning and design to completion, and beyond.