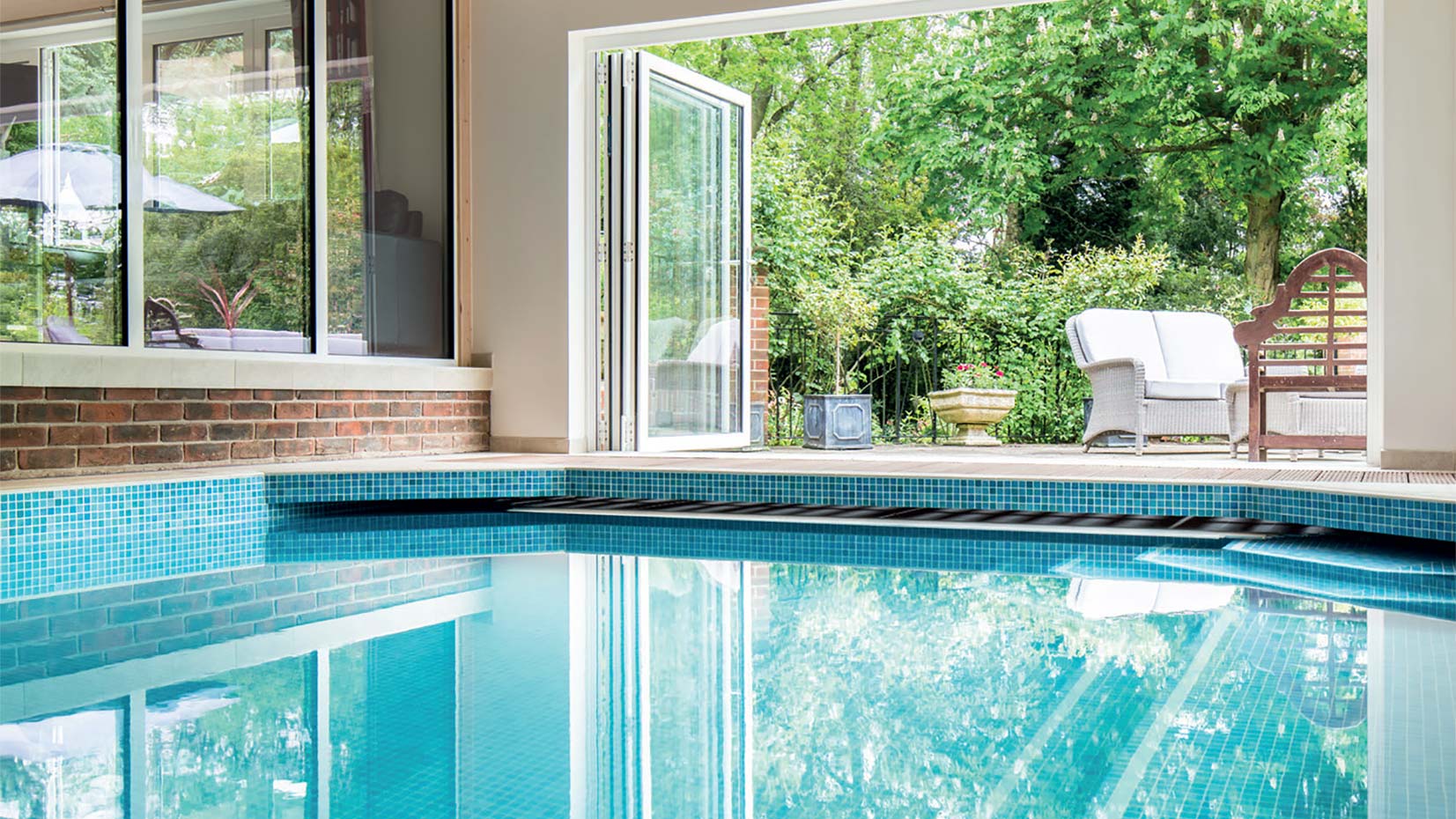 As Mike explains: "It got to a point when we started to have young children and babies in the family again when our grandchildren came along and we weren't using the pool at all as it wasn't safe for them. Due to the age and condition of the pool we spent more time cleaning it out than actually swimming in it!"
The retired couple had seen their neighbour's pool, which had also been designed and built by Origin, and were impressed with the quality and workmanship.
"We had seen Steve's pool and, although his pool is completely outside and quite different from what we wanted, we were impressed with the finish. Origin had carried out the design, planning and construction of his project efficiently and to a high standard, so this was enough for us to ask them to help us with ours. They came highly recommended and when we met them, we knew we'd made the right decision."
The new swimming pool needed to be bigger than the existing one and include a big area of shallow water where their grandchildren could safely splash around and play. It was also important that the swimming pool had an electric cover that was easy to put back on when the pool was not in use, to keep it clean and easy to maintain.
Making Ground
The swimming pool was designed by Mike, an amateur designer, and included a separate kitchen area for entertaining. It was built on part of the old swimming pool, which was a technical challenge for the builders from Origin, who needed to reconfigure the space where the old pool was positioned before digging could begin for the new pool layout. Despite a tricky build, the couple were happy with how the work progressed.
"We want to stress how incredibly good the workmen were. They always got here on time, worked very hard and were exceptionally pleasant. They were so lovely that we actually missed them
when they left!"
Work began building the pool in July 2017 and, six months later, the couple were handed the keys to their brand new swimming pool.
Opening Up Possibilities
Heather and Mike use the pool every week and have even opened up their Origin pool to swimming groups within the community. Several times a week, a local mother and baby swimming group hosts swimming lessons with an instructor in the pool.
"The young people who come over are very impressed with it as its ideal for classes of young children and babies. It's a play pool for the grandchildren, rather than a serious swimming
pool, but nevertheless the older grandchildren still love coming over and having fun in it. It's a busy household when they all dive in!"
Refurbishing the swimming pool, which has cost the couple just under £250,000, was the right decision. As Heather explains: "The value of our property would have been affected if we'd left the swimming pool as it was – it would have decreased the value of the house."
Heather and Mike are delighted with their new pool and can't wait to enjoy it over the summer months. Michael concludes: "Everyone who has come over has been wowed by the swimming pool. We love being able to share it with our grandchildren and others from the community. We're so pleased we made the decision to refurbish the old one, as we now get much more enjoyment from our Origin pool."