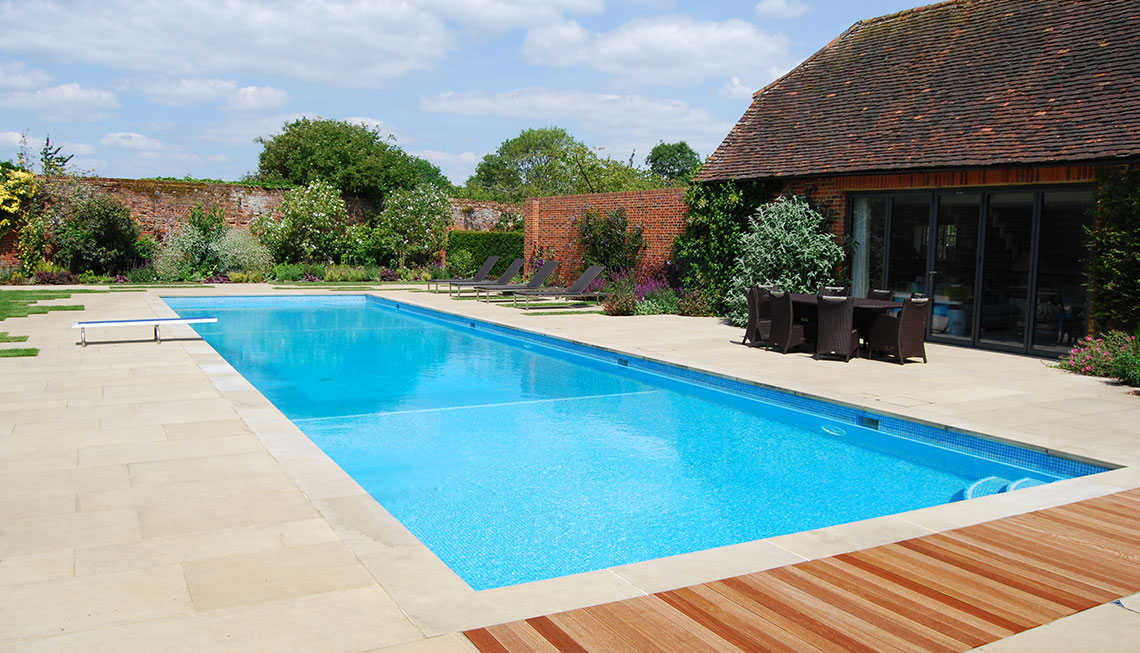 When the Simmons family first approached Origin they knew they wanted an outdoor swimming pool which could fit straight into their lifestyle. As a family with young children who love the water, Kirsty and Matt didn't hesitate to contact Origin when the time was right. The need for a company with a reputation of high quality finished works is what ultimately led to them to choosing Origin. The Simmons family offered the chance of an outdoor pool project with a difference; renewable energy.
One of the most important elements when incorporating an outdoor swimming pool into your existing garden is landscaping, it can make the world of difference. Kirsty and Matt already had an idea for the location of their pool and worked with a landscaper to bring their vision to life.
"We worked with someone we had worked with before so they knew exactly how to tie the pool into the surroundings. He made the pool fit into what we wanted and now it's part of the garden it's like it's always been there. We probably had the biggest part of our budget set aside for landscaping but it was important to have the outdoor pool fit into our style in terms of the garden and house."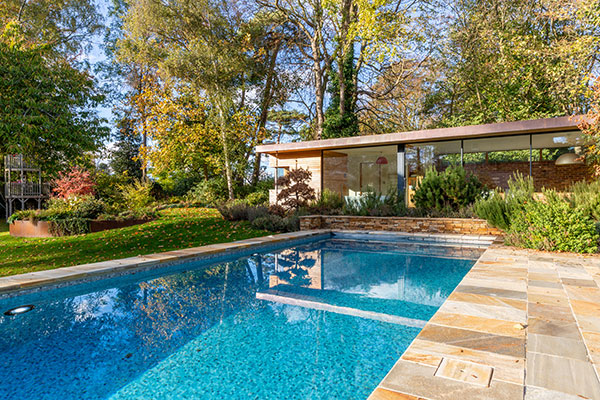 Renewable energy, renewable fun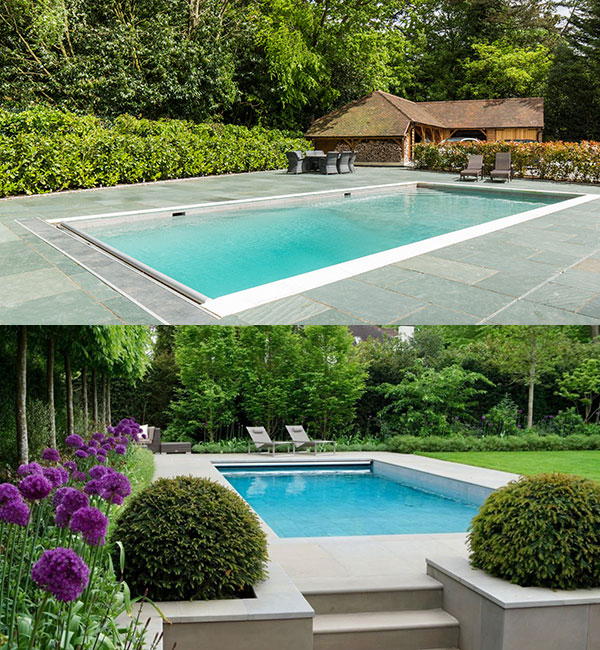 Both Kirsty and Matt had been wanting to upgrade their central heating system and find a way to reduce their carbon footprint. They had been considering moving over to renewable energy for some time so when the opportunity came along to invest in a ground source heat pump (GSHP)system to heat and service their house, they decided to take the plunge. As part of their carbon strategy they also resolved to use the ground source heat pump system to heat their future swimming pool as well.
When Kirsty and Matt approached Origin with this idea it was one of a number of sustainable swimming pool projects they had worked on but nevertheless just the challenge they had been waiting for. As Origin moved forward with the idea, the entire swimming pool had to be designed with the GSHP in mind which meant working alongside the clients renewable energy specialist.
"It's always a challenge when working on a project with different companies and there were a few bumps along the way but Origin were truly great, we had no issues at all. Every element of their part of the overall project was completed in a timely and professional manner."
One of the best things about using a ground source heat pump to heat an outdoor swimming pool is the idea that you can use it to link your house and and pool together by running them both on the same loop and alternating as the seasons change, saving you time and costs throughout the year. Kirsty and Matt love the fact that the energy used to heat their pool during the April to October swimming season is then used to power their house throughout the winter months.
"Our house and the life we live is powered by fully renewable energy. We switch the pool on just before April and it takes about 5 days to heat up, it then runs at 30 degrees throughout the summer. It's always sad when the time comes to switch the pool off but it gives us something to look forward to after winter."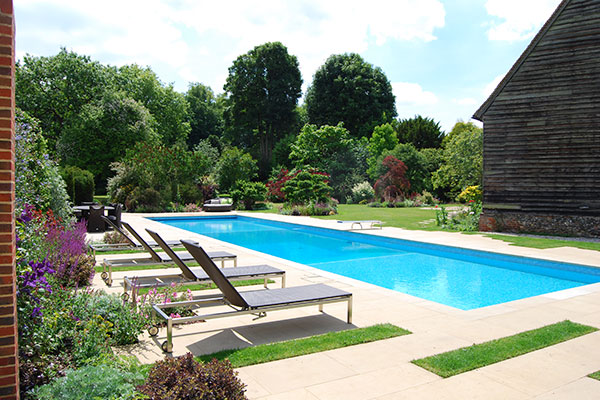 Family time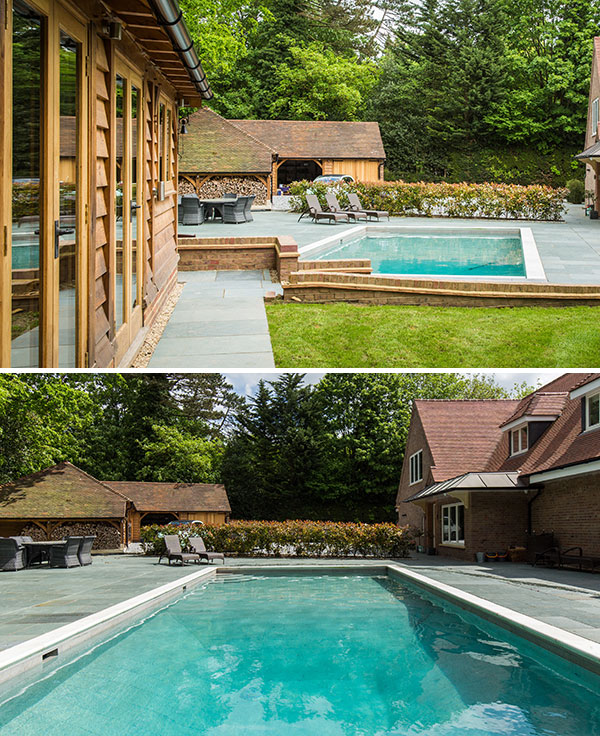 For Kirsty and Matt, seeing how much their children love the swimming pool is the best part of the whole project, having the swimming pool has expanded family time and already provided lots of new memories.
"The kids get so excited when we start the countdown to switching on the pool, it's the best part of summer. Getting home from school on a summer afternoon and racing to the pool is just the best thing for the kids, they love it. We've been really lucky and had some really hot summers since having the pool installed, being able to jump in after a long day and watch the sun go down is the perfect way to spend our evenings."
One of Kirsty and Matt's biggest concerns when deciding on an outdoor swimming pool was safety. They had chosen not to construct a boundary around the pool so a safety cover was essential, Origin talked them through the options and found the perfect cover for them.
"The safety cover was the biggest expense but I'm so glad we invested in one, I have no anxiety or worries around the pool with three young children. It was an essential item and although it was a sizeable investment it's 100% worth it. It's so easy to open and close… it's almost my favourite thing about the pool!"
Why Origin?
"We knew Origin were well known for their high quality finish and we didn't want to work with a company that were going to mess us around as we have such busy schedules. We knew Origin would get the work done and do it well, we wanted it to be special as we were only going do this once and Origin met and surpassed all of our expectations."
Whether it be an indoor or outdoor pool, if this case study has you wondering about the possibilities of using renewable energy for your pool project, speak to the experts at Origin. We'll have you swimming sustainably in no time.