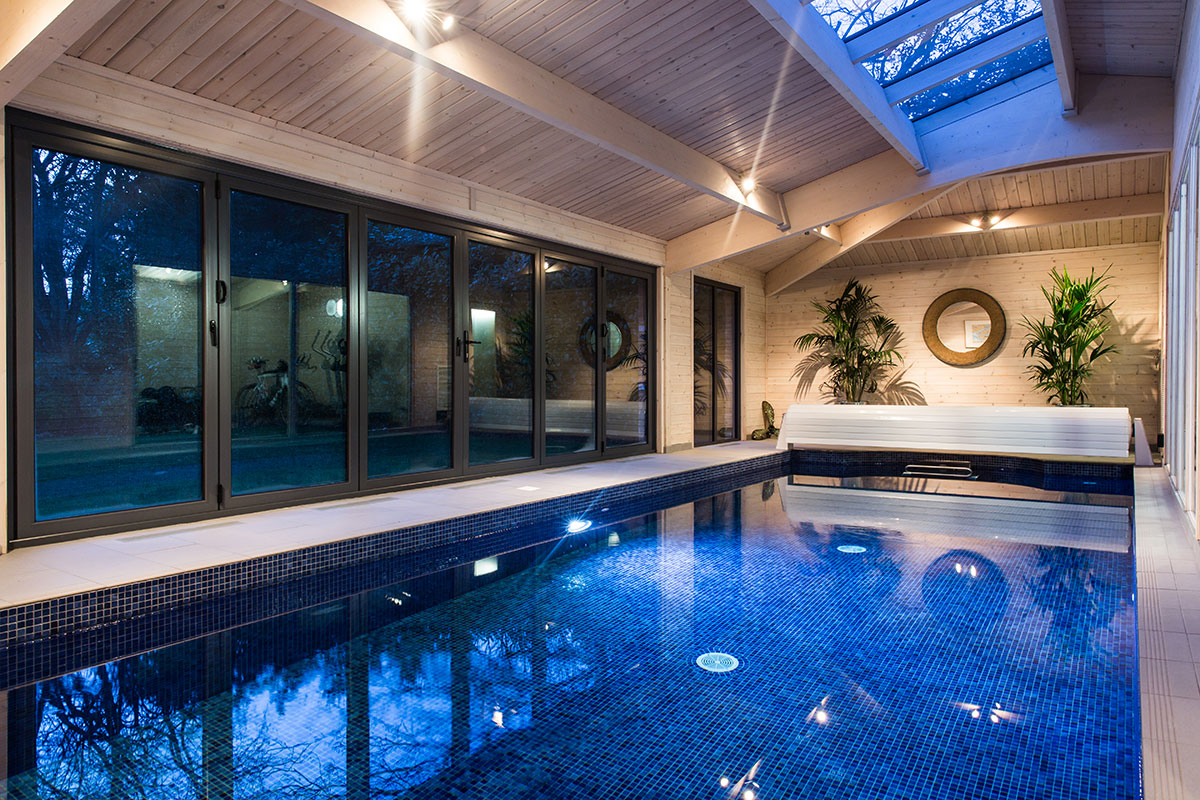 The last days of summer are, for some, a time to put away the flip flops, put down the holiday novel and pack away the swimming costumes as the cold and wet weather sets in.
The shorter days and darker nights, however, are no reason to batten down the hatches. Despite the weather making it just that little bit harder to find the motivation for an evening run or morning workout, there's no reason that rain should stop play. A home swimming pool from Origin Leisure opens up a world of opportunities during the autumn and winter months to come.
While outdoor pools need to be shut down for winter, an Origin Leisure indoor pool can be enjoyed all year round. What's more, the dark winter nights are the ideal backdrop to showcase beautiful bespoke interior pool house lighting, great for entertaining; while a warm pool building lets you soak up views of the garden all year round, without feeling the frost. In fact, there may be more benefits of a home swimming pool in winter than you realise.
Enjoy the Garden All Year Round
The latest research shows that the average British homeowner spends nearly 20 days a year gardening. Sadly, as soon as the sun disappears it leaves us little time to enjoy all our hard work. Origin Leisure can incorporate thermally efficient bi-folding doors in any pool house design, meaning you can enjoy a perfect view of the garden all year round. Kerrie Smith and her family experienced the benefits of bi-fold doors in their pool house, as she explains: "Even when the sun isn't out you still have the warmth of the building. The bi-fold doors are wonderful as it can be chucking down with rain and it doesn't matter. The children can still get out the house to play somewhere safe and warm. The weather was so bad this winter at one point and I was so grateful to be able to go into the building, sink into the sofa, close my eyes and pretend I was somewhere else. It's an extension of the home and also somewhere we can escape to.
Warm Away the Winter Blues
Getting caught in torrential downpours will leave you freezing and soaked from head to toe, but a built in steam room is the best form of winter warmer that's sure to get your circulation going. Each Origin Leisure swimming pool can be tailored to include different features. During the autumn months a steam room and sauna are ideal for warming your cockles, while adding a few drops of essential oils will also lift your mood. Lemon oil has uplifting qualities to put a spring in your step, while a few drops of lavender or sandlewood will help you wind down after a busy day. Eucalyptus oil is also great for warning off autumn colds and flu.
Stay Motivated
With the changing seasons comes the urge to hang up the gym gear and go into hibernation, but research shows that keeping up the exercise will keep the seasonal blues at bay and leave you feeling on top of the world. Staying motivated is no mean feat in September and October when darker evenings make it less safe to use the great outdoors as a place to work out, and you're often battling against wind and rain. That's why many Origin Leisure customers choose to incorporate a home gym into their swimming pool design, with the very latest state of the art gym equipment to help keep motivation levels high.It also means you have somewhere warm and dry to work out all year round, in the privacy of your own home.
Autumn Gatherings and Winter Parties
The flurry of summer soirees needn't come to an end in autumn, as a pool house is the perfect venue to host gatherings with friends and family when it's not quite hot enough for a garden party. Origin Leisure's indoor pools can be designed to fit your entertaining needs, with a bar and kitchen area, TV screens and additional seating areas -the sky is the limit for turning your pool house into a social space. The experts at Origin Leisure can advise on the best lighting effects to showcase the inside and outside of the building during the darker months, while including skylights will mean you can look up at the stars during your evening swim.
LOVE LOCAL - September 2015