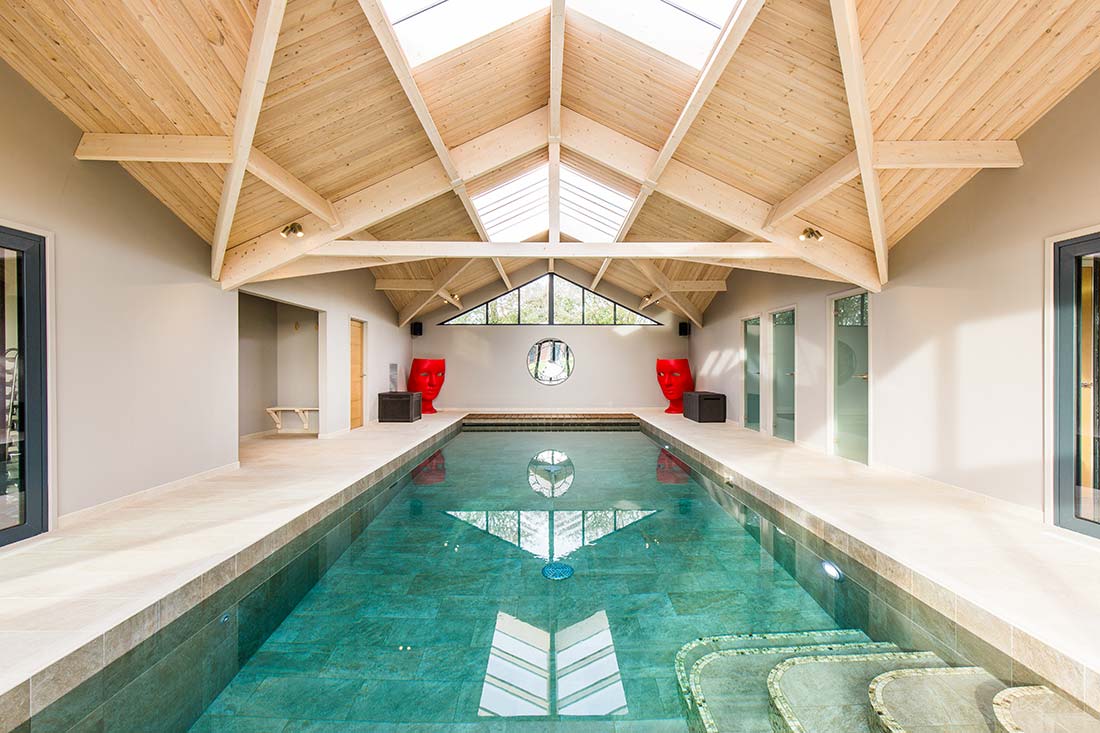 How long does it take to build a swimming pool?
The length of time it takes to complete a swimming pool installation really does vary from project to project as it's completely dependant on the size of your pool, choice of design and internal and external finishes. To get a good idea of the project length, it's best to book a free on-site consultation with one of Origin's experienced advisers so they can walk you through the process and give you their best estimate.
Will I need to instruct an architect or engineering consultant to start the design stage?
No, Origin have experienced architects and engineers to help you visualise the best place for your pool or pool building on your property. We have an excellent track record with all the home county planning authorities and can gain quick planning consent along with engineered solutions to deal with any challenging location or demanding design.
Do I need to employ different companies to deal with each element of the build?
No, Origin manages the whole swimming pool installation process from design to completion, which means all elements of the design and build of your pool are taken care of. Employing separate companies for each element of the build can mean juggling communication with different firms and is more risky as the end result depends heavily on how well they work together. With us, Origin handle everything. You'll have one point of contact, a dedicated project manager, who will be available to answer questions and talk you through the process from start to finish.
How much should I expect to spend?
This is often the first question asked when we speak to families and the truth is, it depends entirely on the size and style of your project, and whether you choose from our range of popular models or are considering a bespoke design. The cost can range from £150,000 to £400,000 and beyond, depending on your choice of size, finish, fixtures and fittings. If you have a set budget, we will work with you to advise on what's possible, making sure the project is kept within your cost limit. The design of each and every one of our models can be tailored to suit you, your family and lifestyle.
What about running costs?
Indoor pool running costs vary greatly depending on the style of swimming pool, its location, the type and grade of enclosure structure, dehumidification, circulation and chemical control. The water and air temperatures and their heat source will also vary, along with seasonal influences. After building indoor pools for over 35 years, Origin know that design and construction are critical to achieving cost effective operations and we can also point you in a 'greener' direction if you want to reduce costs once your dream pool is already built.
I want to add entertainment space to my design, is this possible?
Yes! Origin work with you throughout the design process to ensure that you get the pool of your dreams, whether that's by adding a lounge area, gym or bar, the choice is yours. We have a large portfolio of previous projects that you can also look at for inspiration and one of our experienced advisors can talk you through the options available.
Why Origin?
It's simple, we do it all. We eliminate the need to employ separate companies by managing the whole process for you, meaning you get less stress and still achieve the pool of your dreams. We've been building award winning indoor pools for over 35 years, and in that time we have successfully completed thousands of pools and pool houses to a wide range of specifications.