Part 2: Technical and Practical Considerations
Planning
Planning permission is not usually required to install an outdoor swimming pool as a pool is often considered as a garden landscaping project. However, a good pool contractor will be happy to check with your local planning authority, particularly if your property or the surrounding area falls under any of the following classifications:
Designated land
National park
Greenbelt land
Listed building
Conservation area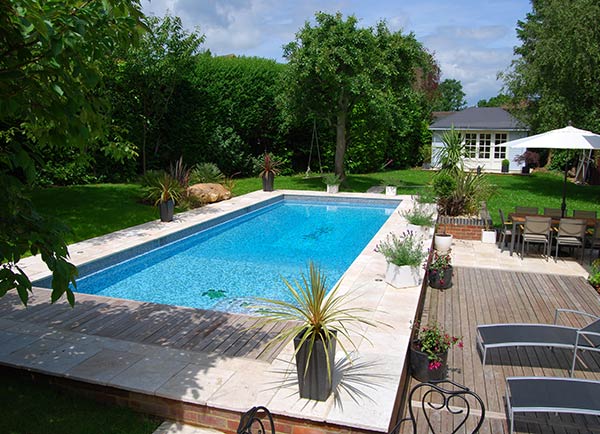 Time of the year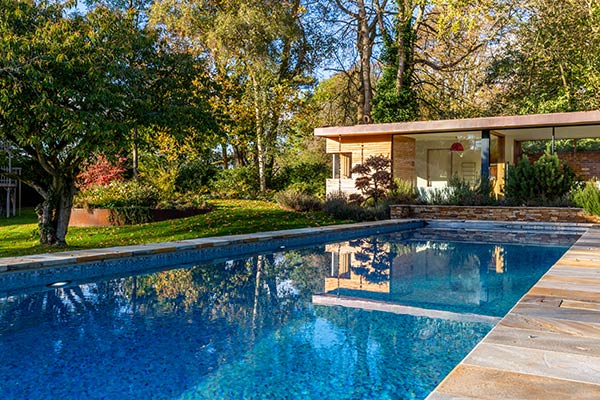 We have a lot of clients come to us and ask for their outdoor pool to be ready by Spring, the start of the swimming season. For this to be possible, the project needs to start in January or before, in fact the best time for the initial works to begin is over the winter period so your garden can be enjoyed in the warmer months. It's also worth bearing in mind that most pool companies will be booking in projects several months in advance so don't wait until the sun starts shining, get in there as soon as possible.
At Origin, we also offer a split project programme to help any of our clients who are undergoing a house or garden refurbishment, we split the work into two phases, which allows all of the heavy work to be done at the same time so disturbance is minimised.
Construction Duration
Each duration will depend entirely on the project considerations. If planning permission is required, the general rule is to allow 8 - 10 weeks for the local authority to process and approve the application. However in terms of construction, concrete pools usually take between 10 - 12 weeks. Each project requires a 'pre-build' time frame of around 2 - 3 weeks, this is to allow structural engineering calculations, drawings, planning the work and site logistics.
Weather can have a big effect on the build duration as certain tasks are temperature dependent or require dry weather all together. Additions such as levelling a site, retaining walls and paving will increase durations. Ensuring you have good access for soil removal or material deliveries can help reduce the time frame so it's best to have a solution for this at the beginning of the project.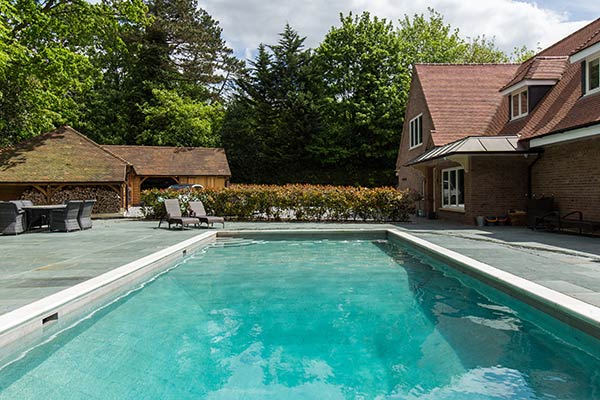 Access considerations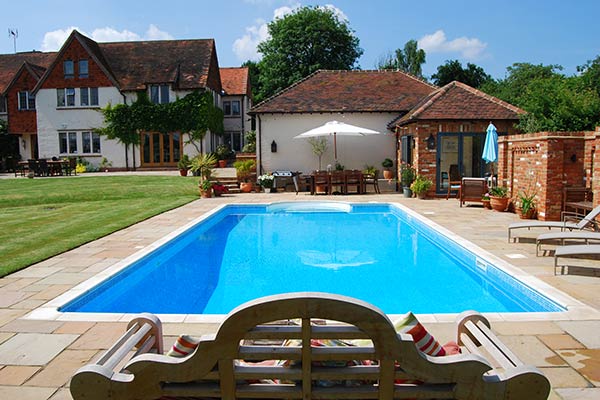 Good access does assist project speed and efficiency, typical access needs to ideally be a minimum of approximately 1.5 metres in order to allow the digger and mechanical dumper a passage to move through. It is possible with a smaller access point of approximately 1.0 metre but bear in mind that this will effect the whole project duration and will impact cost.
The average size pool, 10 x 4 metres, will require the excavation, transport and removal of approximately 90m3 of soil. In order for the construction to be streamlined and efficient, the distance from the pool location to the soil removal point and the machines used will need careful consideration as usually the soil will be removed from site via a grab lorry which will need space to manoeuvre.
Another factor is the storage of materials, the average pool will need 30 tonnes of materials to be delivered and moved to the construction area. In order to protect the surrounding environment, Origin will take the necessary steps and lay temporary protective pathways, construct access ramps and make things safe.
Download the pdf "Technical and practical considerations when buying an outdoor pool"